Pengull, I recall you re-adding Nashty after unfriending everyone when you first left. That's what rubbed all of us the wrong way. You hadn't talked to him in a while and then start talking to him all of the sudden, being friendly and whatnot. It doesn't look good. It looked as if you were simply trying to get on someone's good side for some nefarious reason. It would be nice if you could talk to me directly instead of posting this, your leaving post, and getting Jarl to "spy" on the server when really we admins would love to talk to you and tell you exactly what we think of your behavior. I'm not sure if this is the entire conversation or what but I do know that I don't trust you because you have never talked to me directly despite talking so much smack about the server (I.E. it's going to die, it's worse with Lamb as the owner, unrecognizable, squeaker love, etc...).

That being said, I do try to make the server better but I can't tolerate people causing this drama. I'm locking this post. Pengull, just leave like you said you were going to a week ago. Your brother is still welcome here and believe it or not, I had to veto a decision to take away his mod. I recognize your brother's liking of the server and it's this desire to make it better that I respect. I hate the complaining constantly because I can't do things right then and there. Otherwise, he's fine. You on the other hand I am not fine with. Don't try to cause any more conflict between my admins, my mods, or really anyone from the server or I will be forced to ban you and take away your posting rights. Please keep in mind that this kind of behavior would be tolerated far less by any other owner out there, 100%.



Posts

: 58


Join date

: 2011-12-10


Location

: Jersey, yo



I dont kno how to reply to this. All i can say is as for myself i kno i havnt played on the server much but when i do i try not to upset ppl or play favorites etc. With that being said im sorry if you feel like you have bben disrespected and hope i wasnt part of it. You and your brother have helped this server alot. You have been helping and supporting this server longer than i have and really appreciate the work you have done and am sorry to see you leave on this note. With that beeing said whoever mr nashty is and whatever he is saying to you through chat is not and thing that comes from the community. That is his personal opinion. If i were in your shoes being harassed by him i would block him. Again im sorry to see u leave pengull i hope to see you again in another server or game.



Ps sorry for all the typos grammer and crap. Typing from a super broken phone right now.



Posts

: 87


Join date

: 2013-08-04


Age

: 25


Location

: Maryland US



Tyler 'Nasty' added me on Steam and look what he said to me. It's very rude, disrespectful, and it hurts my feelings. He's not respecting the fact that I left the server so he thinks it's alright to act like this to me. I'm very offended and disappointed about Tyler.

Sorry about the screenshots, they are out of order. I also may be missing some of the chat because it's hard to take a screenshot when someone keeps sending new messages. I think you guys will get the point.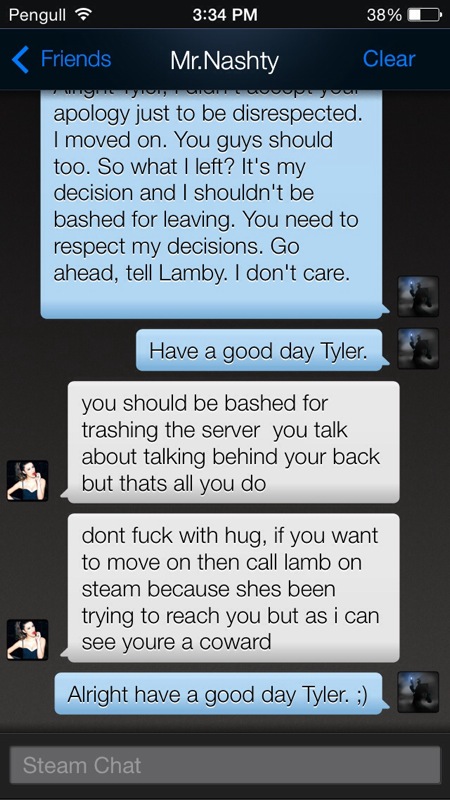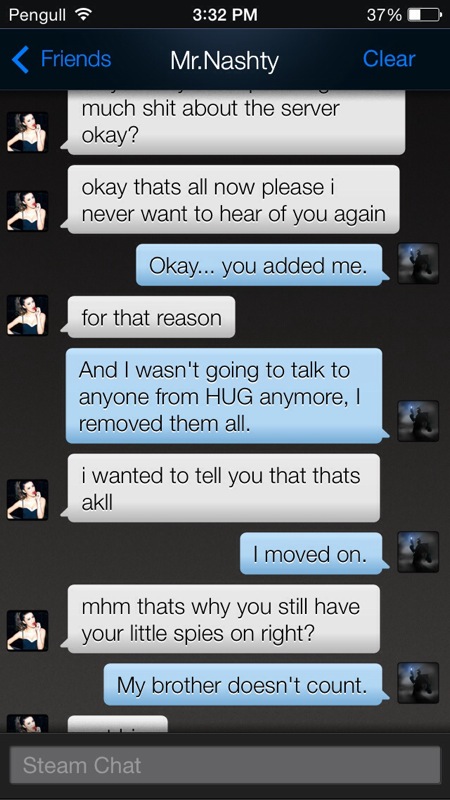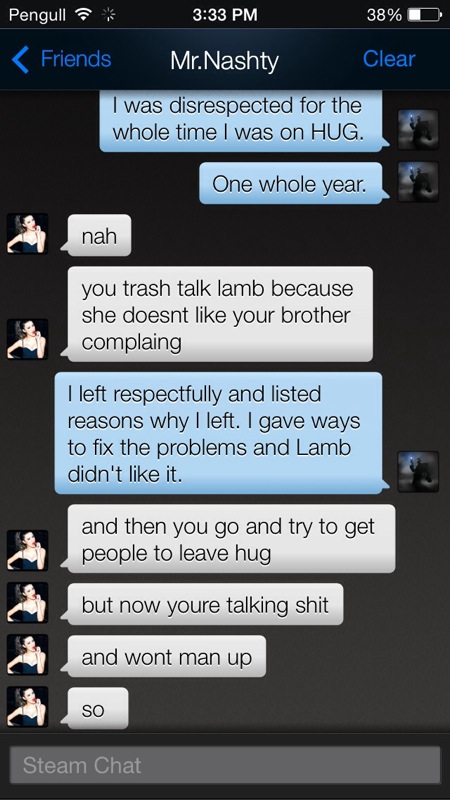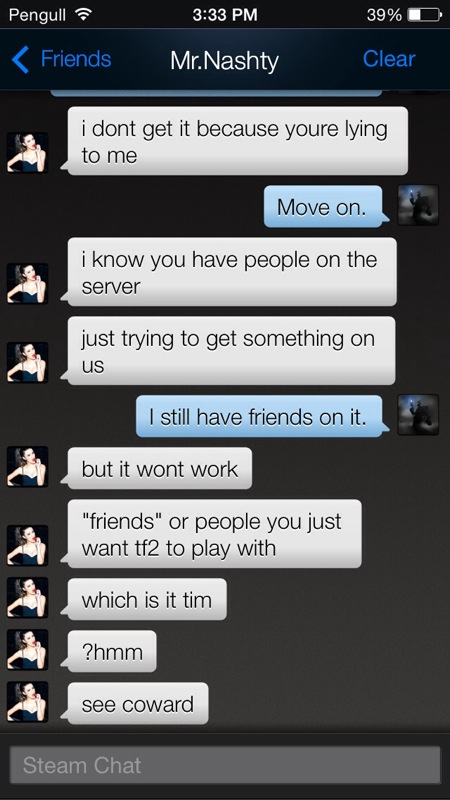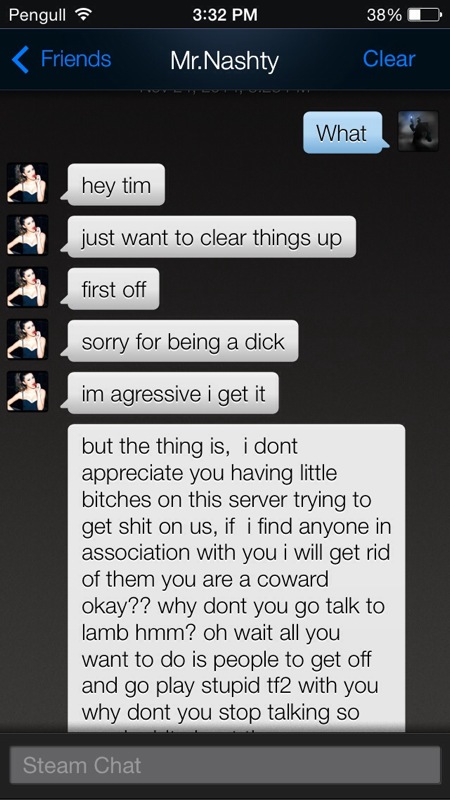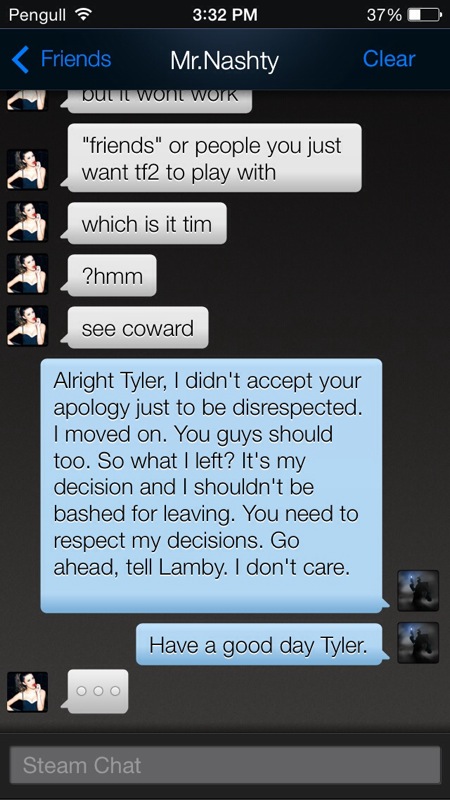 Here's a quick reminder about my goodbye.
Pengull wrote:

Read at your own risk.:

I'm going to make this short and simple so I won't waste your time:

I'm retiring from HUG for so many reasons that all started from one thing, Lamb becoming the Owner. I don't have anything against her, but she's just not fit for the owner title. In my opinion, the server is even worse then how it was before. One of the main reasons is she's adding so much stuff to the server at once. I don't know if it's just me because that's too much change at once. Not even a week after she became the owner, I couldn't recognize the server anymore.

The love for 'Squeakers'

I don't have any video proof, but she does pick favorites with the 'squeakers'. Many of you already know it just by playing on the server, but it's getting really annoying Lamb. The staff (At the time) couldn't even touch a 'squeaker' or she would do horrible things to us staff members. If we banned a 'squeaker' (For good reason) she would unban them and let them run free. I also don't have anything against 'squeakers' because I do love making them mad, but it's annoying when Lamb backs them up. Proof of her love with the higher pitched players can be seen when you connect to the server everytime in the center of the screen. "Welcome to Squeaker Haven". It even says it right here on the forums!

Vakorc wrote:I'm actually responsible for the server's well being and I do want to keep this server a squeaker haven, a forum for creativity, and generally interesting socially.

Why don't you just change the server name to "Squeaker Haven" if you like them so much?

I'm stepping down from my Moderator duties after one year of service, removing mostly everyone from the server on my friends list (Because I don't want them contacting me about server stuff anymore, no hard feelings), I deleted all my patched maps/map patches in progress, I deleted the special map I was working on for the server, and I deleted all my LUA coded weapons like the Hates Grenade Kauncher (Yes, with a K).

I talked to Dony a few days ago and I agreed to work on the maps again, but it's not my top priority. I have a Minecraft server that I'm needed to help on to fix the plugins and such so I won't be working on the maps as often. Who knows, I might even work on more LUA scripts and maybe donate them to the server.

Until then, good bye HUG. It's been great sticking around for over a year but it's time for me to move on.

Pengull



Posts

: 243


Join date

: 2013-07-24


Age

: 20


Location

: #BringBackTheOldHUG



---
Permissions in this forum:
You
cannot
reply to topics in this forum